Directions to Post
from John Wayne Pkwy (SR 347).
turn east on Smith-Enke Rd.
After the second traffic signal,
turn left at next opportunity (Desert Greens Dr.).
Next right turn into commercial area (opposite Colby Dr.),
follow to last building on the left.
Veterans Center door on the near side
of Maricopa Community Center.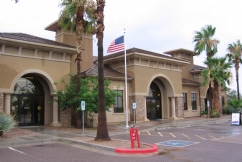 Maricopa Veterans Center information
The Tracy P. MacPherson VFW Post 12043 welcomes you.
It meets on the 2nd Thursday of each month at 7:00 PM.
It is co-located with the Bernie G. Crouse American Legion Post 133.
It meets on the 3rd Thursday of each month at 7:00 PM
Both meet in the Maricopa Veterans Center which is located
at 41614 W Smith Enke Rd, Suite 110, Maricopa, AZ, 85138.
520-233-2400 - option 1

Below is a Flag Drop (right of the flagpole)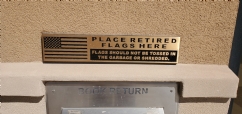 Maricopa VFW Post 12043 is part of
Arizona VFW District 10 and VFW Department of Arizona
to view monthly minutes - logon to Members Only
go to RESOURCES / Members Only